Lyktstolpar användas till mycket mer än bara belysning.
Koppla in extra utrustning som till exempel
temperaturmätare,
rörelsedetektorer,
trafikräknare,
övervakningskamera.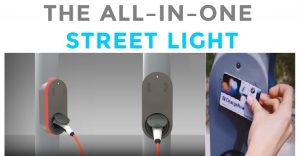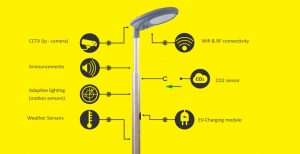 All-in-one solution
Meet the future of modern street lighting! The EV Charging Smart Pole is an innovative, all-in-one street light. It incorporates a charger for electric vehicles, video surveillance camera, Wi-Fi, parking payment solution and intelligent LED street lighting. These elements are combined to fit into any modern light pole, creating the world's smartest and most convenient street lighting solution. The perfect solution for cramped and environmentally friendly city centers. Available as both a complete street light and as a separate installable unit for existing street lighting poles. No more fear of being stranded without power. Electric car owners can now charge their electric vehicle at anytime, in every street. Installation within existing street lamps is simple and the smart interface makes it extremely easy to use. Just plug in and charge. Operators are also able to offer Wi-Fi access, safety monitoring through HD camera's, remote lighting management, and payment support.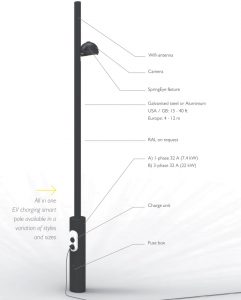 The smart charge and streetlight solutions are a perfect fit for Smart Cities:
> Excellent business case: low investment and operational costs, incomparable to 'normal' public charge points, 2 in 1 installation – both streetlight and charge point.
> Grip on the behavior of charge point users through the data cloud. Signaling you when  an additional point can be placed. No more need for tedious approval processes.
> Additional ways to motivate charging cars to leave after two hours at popular spots by creating time-frames with various prices in dashboard.
> Automatic insights and reports on the impact of EV driving and charging in your city, plus the possibility to run behavioral studies on the big data.
> Reliable network. Your charge points will join an existing network of 16,000 connected  chargers. The back office keeps track of the 'heartbeat' of every charger and signals potential issues. Preventative asset management is possible through algorithmic analysis.
> The streetlight indicates whether the charge point is available, which saves cars driving for miles to find an available charger.
> Possibility to offer specific groups of drivers (like citizens of districts) specific privileges through one card. > Future proof: subscriptions come with regular software updates, offering your charge point users more and more functionalities they'd appreciate.
> Retrofitting: the charger is also a plug-in option for existing light poles. Already in-place chargers can be added so the entire charge network can be monitored via one system.
> No need to fear energy-shortages or broken fuses: the 22 kW chargers are kitted with load- balancing, allowing the charger to adjust over the phases to the power requested by the  specific car-type.